NHS & Healthcare Tax Rebate Services
Under current HMRC guidelines, you can actually claim back any amount that you have overpaid in the last 4 years. So don't delay to get this checked or you could be missing out on a tax rebate...
Typically, NHS workers including Carers; HCS's; Nurses; Doctors; etc. could be entitled to a tax refund in the last 4 years if you:
Used your own vehicle for your job and did not get fully reimbursed by your employer
Frequently changed jobs or worked for multiple employment agencies
Are a foreign national who came to work in the UK and returned to your home country after 5th April 2010
Relocated overseas
See a BR tax code on your payslip and never received a tax refund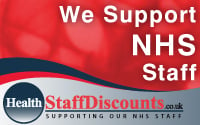 If any of the above applies to you, then
DOWNLOAD A FREE CLAIM PACK TODAY - JUST FILL IN THE FORM OPPOSITE
or call us on 0203 137 5773 and you could be on your way to claiming your tax back. We partner with HealthStaffDiscounts.co.uk. If you are a member, apply through them to get a 10% discount!