NHS & Healthcare Tax Rebate Services
Typically, NHS workers including Carers; HCS's; Nurses; Doctors; etc. could be entitled to a tax refund in the last 4 years if you:
Used your own vehicle for your job and did not get fully reimbursed by your employer
Frequently changed jobs or worked for multiple employment agencies
Are a foreign national who came to work in the UK and returned to your home country after 5th April 2020
Relocated overseas
See a BR tax code on your payslip and never received a tax refund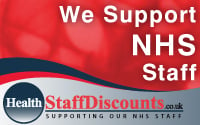 If any of the above applies to you, then Call us on 0203 137 5773 and you could be on your way to claiming your tax back. We partner with HealthStaffDiscounts.co.uk. If you are a member, apply through them to get a 10% discount!
Want to know more?
If you think any of these examples apply to you then call our tax consultants now for free advice or fill in our application form for a free tax rebate application pack